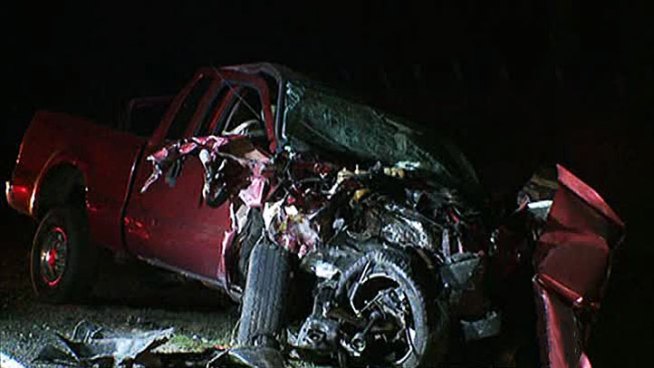 Kendra Lyn, NBC 5 News
Four vehicles crashed Sunday night in Kaufman County killing one man and sending 11 people to the hospital, including at least two children.
13 People Involved in Kaufman County Crash
A four-car crash killed one man and sent 11 others to the hospital Sunday night.
The wreck happened on state Highway 243 near Farm-to-Market Road 439 in Kaufman County near the town of Ola, just after 8 p.m. 
At least two of the victims are children and officials said they were flown to Children's Medical Center in Dallas in critical condition.  The remaining survivors had to be rushed to area hospitals by ambulances and by helicopters. 
Investigators said their injuries range from cuts to concussions.
Troopers describe the wreck as a complex, chain-reaction crash that started when an a Cadillac Escalade driving west on Highway 243 tried to pass a white Chevrolet pick-up truck.  As the SUV had been passing, it rammed head-on into an oncoming red Ford pick-up.
The driver of the white Chevy pick-up that was being passed stopped to help after seeing the crash.  Troopers said the pick-up was then hit from behind by a Chevrolet Tahoe.  The Tahoe rolled.  One man inside died.  The driver of the Tahoe took off running from the scene.  Troopers are still looking for that driver.
"We're on a farm to market road. Two lane. It's very remote. And to have four vehicles all come together at this one place in time, is a little bit different," said DPS Trooper Lonny Haschel.
The investigation into the crash continues.