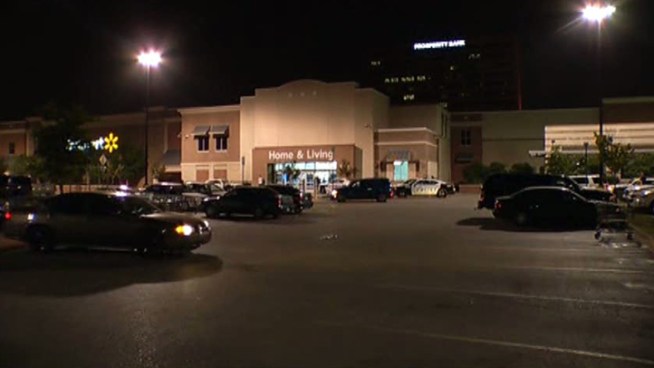 Ellen Goldberg, NBC 5 News
Witnesses said there was chaos inside a Dallas Walmart after a gun was fired. Police believe the shooting may have been an accident.
Shot Fired Inside Northeast Dallas Walmart
Police were called to a Walmart in northeast Dallas after at least one shot was fired inside the store Monday night.
Dallas police have arrested a man on suspicion of injury to a child, assault and evading arrest in connection with the fired shot at a Walmart in the 9300 block of Forest Lane.
Investigators said the man, who has a concealed carry permit, may have accidentally fired the .40-caliber semi-automatic gun. The weapon was near his wallet when it discharged. He sustained a minor injury.
A Walmart cashier said she heard a loud boom and then saw a bullet on the floor. She said she heard just one gunshot.
"It was a pretty crazy experience," she said.
She said the gun went off toward the floor and said the man did not appear to be pulling the weapon out or threatening anyone.
Police said the man panicked, tried to leave the store and ran from police. Officers quickly apprehended the man, the cashier said.
Two children and a woman sustained minor injuries from shrapnel. No one was transported to a hospital.
NBC 5's Ellen Goldberg contributed to this report.