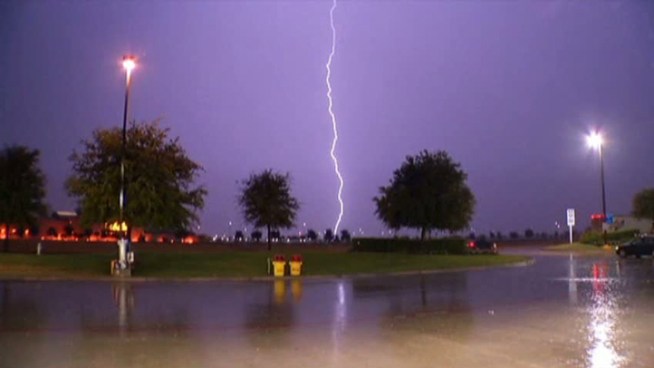 Scott Gordon, NBC 5 News
Thunderstorms brought rain, wind and lightning to North Texas on Tuesday night.
Storms Roll Into North Texas
Rain and a sudden drop in temperature came with thunderstorms that moved across North Texas on Tuesday night.
The storms developed northwest of the Metroplex and began drifting eastward. Most of the rain was expected to be in the areas north of Interstate 20.
The thunderstorms rolled into Tarrant County before 9 p.m., bringing intense lightning, heavy winds and short but very heavy downpours. The storm brought wind and plenty of lightning as it moved east into the North Dallas area.
The weather could delay ground spraying for mosquitoes in the Park Cities and North Dallas. The trucks were positioned and waiting for the storm to pass as of late Tuesday night, but the rain was expected to continue for much of the night.
The rain also brought a welcome break in temperature. The high Tuesday was 106 degrees, but temperatures dropped to the 70s by 10 p.m. in the areas that saw rain. However, the areas to the south that remained dry had temperatures in the 90s.
Sunny skies are expected to return by Wednesday afternoon, NBC 5 Chief Meteorologist David Finfrock said. But a stronger cold front is expected to arrive Friday, bringing another cool down and the possibility of more storms that could linger through the weekend.
NBC 5's Scott Gordon and Kevin Cokely contributed to this report.