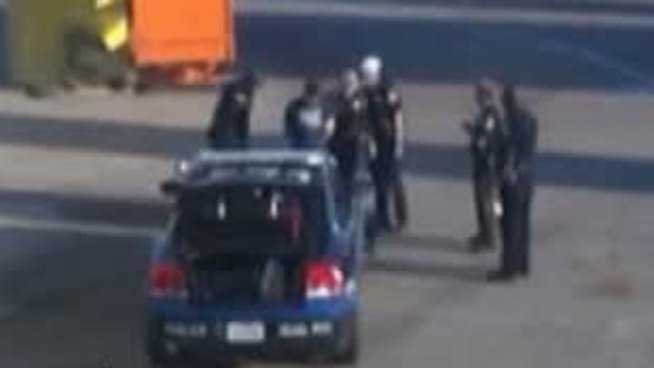 Kendra Lyn, NBC 5 News
It's been a turbulent 24 hours for a former North Texas man. Christopher Shell, an airline passenger at the center of a mid-air security scare, has been a suspect, a victim, and now an inmate.
Hoax Victim Arrested in N. Texas
A man originally from North Texas was first a suspect Thursday, then a victim and may soon be an inmate.
Christopher Shell, the man suspected of smuggling an explosive onto a US Airways plane Thursday morning, was arrested after his eventual arrival in North Texas later that day on outstanding drug charges and for missing a court appearance.
Early Thursday morning, Shell boarded a flight from Philadelphia to Dallas-Fort Worth, where he was returning home to celebrate his 29th birthday.
Just a few minutes into the flight, the plane had turned around and landed at Philadelphia International Airport -- where they had departed only a half hour or so before.
Soon, agents with guns surrounded Shell and removed him from the plane.
"He was obviously very alarmed, as I would be if heavily armed police officers entered a plane to take me off," said Joe Sullivan, Philadelphia police chief inspector. "He was certainly stunned."
Investigators quickly determined Shell had been the victim of a hoax, posed no threat to the flight and released him.
Shell then decided to return to North Texas. When his flight eventually arrived, he was placed in handcuffs and arrested on a warrant out of McKinney where court records show he apparently missed a court appearance last January for a marijuana charge.
A spokesperson with DFW International Airport confirms Shell's arrest has nothing to do with the hoax, only his outstanding warrants in North Texas.  As of 9 a.m. Friday morning, Shell was still in the custody of DFW Airport police.  DFW police planned to turn Shell over to Collin County authorities mid-morning.
Meanwhile, the FBI questioned Shell's ex-girlfriend and her current boyfriend in connection with the hoax.  The woman was released, but the boyfriend, now suspected of phoning in the threat, is expected to face several federal criminal charges.
NBC 5's Kendra Lyn contributed to this report.